This past weekend the girlfriend and I went to Edmonton for her birthday. Everything we did was a pretty good time but the highlight for me was laser tag.
I haven't played laser tag in years and years. The last time I remember going was either the late 90s or early 2000s at the Dark Zone in Winnipeg (which I just found out is actually open again, awesome!) and it was pretty sweet to revisit the experience as an adult.
When you're a kid, you're at the bottom of the laser tag food chain. You're hunted, taken out easy, and have bad aim so you can't really retaliate. But it's still fun all the same. However, when the shoe is on the other foot and you're the one doing the hunting, it's even more fun. Thumbs up A++ experience.
How I Met Your Mother nails the Laser Tag experience every-time
Which got me thinking…there's no laser tag centre in Saskatoon. So maybe I should open my very OWN entertainment park with laser tag! With a cool two story catacomb design with hidey-holes, sniper nests and more! And it'll even have changing rooms for people to use because
everyone
gets disgustingly sweaty playing Laser Tag.
We'll have booking options for businesses, birthdays, weekend tournaments, parties, and groups of all sizes!
Plus, while you're there check out "Jake's Restaurant & Sports Den." Bring the whole family for pizza and laser tag, or for the 19+ crowd, have a drink and catch the game while you wait for your turn in the Lazer Zone!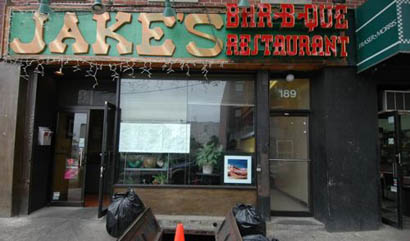 Mine won't have the garbage in front
So who wants to lend me $400,000 in start-up dollars to get this Laser Tag business off the ground? I'm totally good for it in ten years.